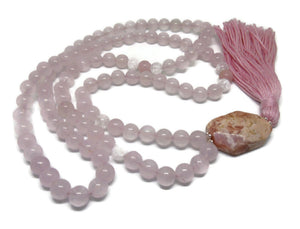 Rose Quartz Love Mala Necklace
Regular price
Sale price
$64.95
---
Rose Quartz Mala necklace made with 8 mm beautiful beads of Rose Quartz AAA , Pink Opal and Crystal Quartz. 108 beads, strung one by one on silk cord with Rhodochrosite as guru bead and finished with cotton tassel.
Use it to help your mind focus on meditation or count your mantras. Wear it just as a necklace and capitalize on the healing properties of these stones.
Rose Quartz: for centuries it has been used for love magic  and to encourage fertility.
This stone makes us to be gentle but firm.
It helps with self-love, romance and the ability to love.
Rose quartz encourages forgiveness and trust.
It calms worries and helps to recover from emotional wounds.
It is a healing stone for heart chakra.
It will draw off negative energy and replace it with loving energy.
This beautiful stone aids  in accepting of necessary changes and in strengthening empathy and sensitivity.
Pink Opal: the soft pink Opal brings gentle energy and encourages us to express  ourselves openly.
Takes away worries , shyness and inspires warmth towards each other.
It is named as stone of love and hopes.
Its power may bring you unique love and personal happiness.
Pink Opal as the legend says may  grant your wishes.
It is  a stone of positive actions and achievements.
Helpful with heart and lungs problems
Crystal Quartz: this is a powerful energy amplifier, protects against radiation
It absorbs negative energy and encourages clarity


Crystal quartz helps with solving problems and  with memory and concentration

This stone brings self-knowledge and helps to overcome our mental limits

Crystal quartz is a master healer

It will help to diminish pain and  swelling
Rhodochrosite: this rose colored stone is known as a stone of love and compassion.
Promotes positive, enthusiastic attitude towards life
Helps to awake universal love and can help to attract your soul mate.
Rhodochrosite has mood-lifting effect and encourages spontaneous expression of feelings.
Great stone to stimulates your creativity and innovation.
It will motivate you to take action and boost courage to face fears.
Beneficial for emotional healing in case of sexual abuse.
It also improves awareness of your personal worth
 Each Mala necklace is hand crafted in Canada and infused with Reiki energy.
M

ade to order and ready to ship 2-4 business days

30 days Money Back Guarantee